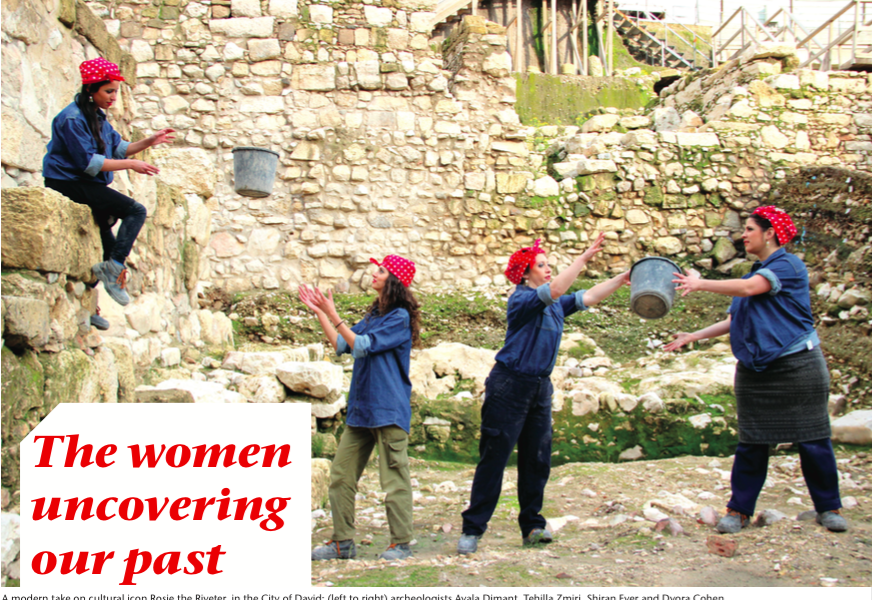 Typically, when one thinks of an archeologist, the image of a man, sweaty from his labor digging through dirt, sand and caves for treasure and legend, comes to mind. Likely he's an Indiana Jones type, a lasso-wielding, jeep-riding, five-o'clock-shadow sporting man's man who wears dirt and grime with macho pride. Or perhaps he's someone more like Ross from Friends or the stuffy British professor who drones on about mummies and pyramids over puffs on his pipe. Either way, he's a dude.
And yet, women are actually very much involved in the field. In fact, the most well-known archeologist in Israel is Dr. Eilat Mazar, who has spent much of the last decade excavating ancient Jerusalem and just recently announced the discovery of the royal seal of the biblical king Hezekiah.
Currently working at the City of David, the site of ancient biblical Jerusalem, are three female archeologists who work with the Antiquities Authority. These women, day in and day out, bring the history of ancient Jerusalem to life, and they have a lot to tell us about today from what they have learned about yesterday.
Like the men described above, these women are strong, determined and proud. But unlike our imagined adventurers, they seek more than treasure and glory. They seek to learn about their people, their history and their land.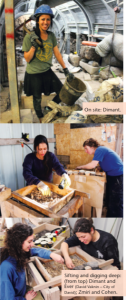 The City of David is the most widely excavated site in Israel and one of the most widely excavated and significant historical and archeological sites in the world. It is managed by the Israel Nature and Parks Authority and operated by the Ir David Foundation (Elad). The site, which attracts more than half a million visitors a year, has been declared one of Israel's National Heritage Sites.
Excavations in the City of David are carried out by the Antiquities Authority and are led by archeologists from Israel's foremost academic institutions. Since 1867 there have been more than 19 archeological delegations that have excavated there, led by archeologists from countries such as England, France, Germany, the US and Israel.
Antiquities from more than 10 ancient civilizations have been uncovered and preserved, dating back nearly 4,000 years, such as Canaanite, Israelite (First and Second Temple periods,) Roman, Byzantine and Persian.
The City of David is the archeological site of ancient Jerusalem, whose origins are dated to the Early Bronze Age (1850 BCE). This is the same site recorded in the Bible on which David established the capital of ancient Israel and has remained the seat of power for the Davidic dynasty for centuries thereafter.
Among the significant archeological discoveries from the City of David are the following:
• Clay bullae (seals) dated to the 6th century BCE, bearing the names of two ministers of king Zedekiah, the last king of Judah, as mentioned in the Bible (Jeremiah 38:1).
• The Shiloah (Siloam) Inscription, dated to the 8th century BCE, records the construction of the tunnel responsible for diverting the water of the Gihon Spring to the Shiloah Pool, undertaken by king Hezekiah, as recorded in the Bible in II Kings 20, 20 & II Chronicles 32, 3-4.
• The Herodian (Second Temple) Pilgrimage Road, dated to the first century CE, led from the Shiloah Pool up to the Temple Mount. Josephus recounts that more than a million pilgrims walked this route on major festivals.
• The Golden Bell, dated to the end of the Second Temple period (first century CE), was discovered in the drainage channel beneath the Herodian Pilgrimage Road. Archeologists believe that it may have come from the garments of the high priest
In honor of International Women's Day, Shiran (aged 25), Ayala (aged 20) and Tehilla (aged 23) spoke to In Jerusalem about being a woman working in the field of archeology.
When listening to these women, you can feel their sense of wonder, excitement, professionalism and hope. They see in our past proof of our future. Their understanding of our ancestors, of the fears and troubles they lived through, gives them strength in these times that "this, too, shall pass." And being a woman doesn't factor into how they do their job.
What made you want to be an archeologist?
Shiran: When I was young, something like seven to nine years old, I went with my family to the "Time Elevator" in Jerusalem. There, I discovered that no one had yet found the Ark of the Covenant. I remember thinking to myself, I want to find it.
Tehilla: I chose to be an archeologist because the work is unique and fascinating. On my first day at work, I found two figurines of a rider from the end of the First Temple period. It is fascinating because it shows the reality in the kingdom of Judah as it was in the Bible.
Ayala: The idea of working in archeology seemed interesting, different, challenging. It is practical, hands-on work that directly relates to our history.
Is it unusual for a woman to work in archeology?
Shiran: Being an archeologist is very intense but very satisfying. It is an unusual job in general. Today, people tend to go for jobs that will make them the most money, so I think it's probably a strange job for a man and even more so for a woman.
Tehilla: It's not at all unusual for women to work in archeology or in excavations. Jerusalem is no exception.
Ayala: Not at all. There is nothing about archeological work that is particularly masculine. Everyone, man or woman, can find their place in archeology and thrive in the areas they are good in.
What do you love about being an archeologist?
Shiran: What I love most about what I do is finding interesting things, whether through digging or sifting. I've always loved archeology. Some of our family trips were to places with antiquities just because I requested it.
Tehilla: It's incredible to uncover our ancient history and discover things used by my ancestors over 2,000 years ago. I discovered a pendant that was also used as a seal – it is special because it is made out of glass. I would love to find writings of Jews who lived during the war at the end of the Second Temple that documents this time period.
Ayala: Jerusalem excavations are actually very special to me. Through our work we see that Jerusalem has always been the main place for the Jewish people, from the Second Temple period to our time right now! Seeing Jerusalem of the past "resurrected" from the excavations, and finding things in the field that prove that Jews lived here during the times of the Temple, this connects us to our history as a nation – we are Jews living in the Land of Israel. Then and now.
What are the challenges in your work, in Jerusalem and in general?
Shiran: Being an archeologist requires a lot of lifting and carrying things, and I do the best I can. When working in Jerusalem you need to be very careful. Anything can be of great importance. Everything we find needs to be checked and checked again to be certain of what is to be kept and what can be thrown away. Oh, and the freckles. My freckles have freckles!
Tehilla: Getting up very early in the morning and working outdoors in all kinds of weather is not always easy. Sometimes the work is Sisyphean.
Ayala: I've not encountered any real difficulties. My work is extremely interesting and every day is new and different. At times, it can be hard working in Silwan, a predominantly Arab neighborhood, but specifically in these areas it is important to have a presence and be seen.
What do you see for the future? 
Shiran: I wish I knew what the future holds, but only God has this ability. I can only hope to find something that relates to the First Temple, so that this beautiful city and our amazing nation can be held in greater regard worldwide. To quote Evelyn from the movie The Mummy, "You know you're history." I know a lot more than I used to because I work here; and if we study the past, we will be able to prepare for the future wisely.
Tehilla: I never know what I will dig up, but it would be exciting to find, like others have, perfume bottles and pieces of jewelry. Among other findings, we have discovered vessels made of stone that prove that Jews have lived here, because they relate to the halachic laws of purity (stone does not become impure). It is important for us and for future generations to realize that Jerusalem has always been part of the Jewish heritage.
Ayala: I think we will continue to find things from the past that will help us understand more about the life of the Jewish people in general, and in Jerusalem in particular, during the Temple times.
What do you learn about women in the ancient world?
Shiran: Unfortunately, I haven't learned anything about women in the ancient world, and I'm not surprised. It has been a man's world since the dawn of humanity. However, there were a few women in general and in Jewish history who left their mark in the world. I'm happy that women today are more involved in society. Of course, there are still many things to fight for, but one step at a time.
Tehilla: From the dig I can see that, also in ancient times, women liked wearing jewelry and using perfume, but unfortunately I cannot learn about their personalities. From the Tanach, I know that women played important roles, like Sara, Tzippora, Yael, and Devora.
Ayala: Throughout history there have been stories of independent women. Today, thankfully, it has become completely normal and accepted for women to be independent.
Do you feel being a woman affects your work in any way?
Shiran: No. The fact that I am a woman doesn't affect me in any way. I do everything to the best of my ability.
Tehilla: Not at all. I am not afraid of physical work.
Ayala: No. I love it. I love that people find it strange that I work in archeology. And I love telling them how interesting it is and how much I enjoy it.
What would you like us to know about you?
Shiran: I'm religious and live in a settlement. When I interviewed for my job, the interviewer asked me: "Why do you want to work in archeology?" I replied: "Because I love it." He said: "You have ideals." You can see it when I'm at work – every time I see something interesting, I scream: "Oh my God! That's soooooo cool!" The people at work laugh at me all the time. I love my land, country and nation. It is very important for me to say this at this difficult time. I am proud of my nation that, despite everything, never gives up.
Tehilla: We are currently excavating burned remnants from the time of the destruction of the Second Temple. I assume that the Jews back then thought they were defeated and that the end of the nation was coming. They could not have imagined that 2,000 years later, future generations of Jewish men and women would come and reveal their glorious past. So in fact, they were not defeated. I've learned that though we are living in times of unrest, there is always hope.
Ayala: I believe that especially with what we are going through now, as Jews in Israel, it is important that we recognize and connect with our past as the nation of Israel, specifically in Jerusalem. Recalling and feeling that connection is what will give us the strength to persevere and remind us of why we are here and what we are fighting for.
These women and their passion, pride, and determination practically beg us to recall our connection to this land and to join them in discovering the wonders of our past so we can fight for our future.
Originally in The Jerusalem Post March 5